Written by Kathy Adams and published on https://www.hunker.com/
A well-lit landscape should have both functional and decorative light fixtures. In this outdoor space, wall sconces on the house provide adequate illumination for entertaining, while the garden fixtures and the lights strung through the trees bring a whimsical feel to the patio at night.
A property isn't complete without the right outdoor lighting in place. Not only is outdoor lighting an important safety precaution, it can add to the look of the house and emphasize the depth and features of the yard. Together, these benefits can boost the curb appeal and value of the home.
Landscape Lighting Ideas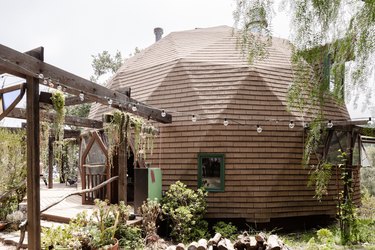 Continual lighting innovations make it easier to pull off even your wildest landscape lighting ideas. From uplights that illuminate trees to color-changing lights that offer a soft glow for a footpath, options exist now that would have cost a fortune a couple decades ago, if they were even possible at the time. Low-voltage landscape lighting sets sold at home improvement stores are often simple enough to install yourself, but some jobs, such as installing an exterior outlet to handle the landscape lights, are best left to a licensed electrician.
Landscape Lighting Basics
Landscape lighting is virtually any type of lighting that enhances the look and the visibility of areas around your home's outdoor spaces after dark. Some of the lights could have more than one purpose, such as adding a little after-dark appeal in the form of ambient lighting while also offering just enough light for a safe walk from one area to another. The lights may shine up or down or even twinkle from strands of lights strung around a tree trunk or along a fence.
The best way to determine what landscape lighting ideas will work for your outdoor spaces is to take a good look at your front yard and backyard after dark. View these spaces from the sidewalk, your porches or even from indoors. Jot down which areas need more lighting and which types of light may benefit them, such as a bright light that turns on as it senses motion in the driveway. Even if you don't want full, bright illumination in an area such as the backyard, some ambient path lighting or focused uplighting for a tree offers enough light to enjoy your outdoor spaces a bit after dark.
Look at these same outdoor areas in daylight, noting which areas are particularly beautiful, such as a dwarf Japanese maple tree in front of the house. These little pockets of beauty are key candidates for some form of landscape lighting, as they're worth highlighting after dark. Take notes or even sketch basic layouts of any areas you might want to illuminate. Be sure to write down what kind of lighting you plan for each area, such as a bright uplight or even a few solar lights that fit into some types of fence posts in place of caps.
Landscape Lighting Terminology
Landscape lighting is sometimes labeled based on what the light does best or how it is shaped. For instance, wash lights, or wall wash lights, are used to diffuse light over an area, such as the corner of a house or the back fence. These typically mount in the ground with a stake and can be angled to provide the optimal illumination for the area. The goal with these is a large, soft wash of light rather than the bright glare of a floodlight, for instance.
Floodlights shine a similar-sized beam of light but are much brighter, with side collars to block bright light from the side views. Bullet lights are a lot like floodlights but with a much narrower focus. These are used to highlight tree trunks or a specific accent area with bright light rather than shining light over a wide area.
Well lights mount directly in the ground in a waterproof housing that cannot be repositioned once installed. These are best along a garden wall in a paved area or rock garden, and they are sometimes used around a pool or a rather large water feature. While they could be used in flower beds or in the lawn, this isn't ideal since you'll have to continually pull weeds and grass or move soil from their light covers. Sconces are yet another lighting option. These mount to a wall and are ideal on a porch or along the back wall near an outdoor living area.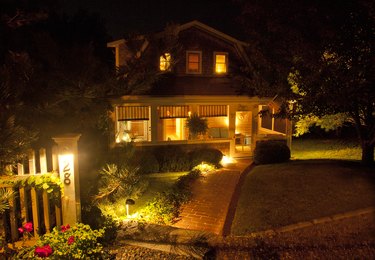 Perfectly Lit Paths
Path lights, sometimes called garden lights, come in a variety of styles and shapes, usually on a post and with a cap on top designed to prevent the light from shining upward. These are often used to illuminate an area that may be used as a walkway, such as a narrow, paved area leading from the driveway to the front door.
Look for path lights that are at least 14 inches tall to provide sufficient lighting along the ground for a footpath. Read the packaging that comes with the lights to determine the reach of each beam of light. The goal with path lights and virtually any series of identical landscape lights is to space them just far enough apart that one orb of light doesn't overlap the next.
Pathway lights don't have to be just for footpaths and walking areas; they also add ambiance around a backyard garden or flower bed, around the perimeter of a patio or in front of the flower beds or small shrubs in front of your home. Look for the areas of your yard that look nice in the daytime, as you'll get yet another attractive look from the same plants or features as they're illuminated after dark.
Numerous styles exist for solar path lights, so it's easy to find styles or finishes that pair well with the look of your home. Feel free to experiment with spacing and placement with a set of solar path lights, as they're simple to move by just pulling their stakes out of the ground. This also makes them an excellent option for lights placed in a lawn, such as near the edge of a driveway, since they can be removed temporarily when it's time to mow.
Landscape Lighting: Ups and Downs
With some landscape lights, it's all about the ups and downs — or the uplights and downlights. Uplights are usually installed at or near ground level to illuminate interesting architectural or landscape features, turning them into focal points after dark. A flowering tree in the front yard and a stately backyard tree with interesting branch structure are good candidates for uplighting.
Columns on either side of the stairs leading to the front porch are another great place to use uplights. This helps your home stand out at night without casting the entire front of the home in a floodlight's glare. The column uplights also add a bit of nighttime curb appeal to your home.
Downlights are lights that shine downward, often with a dramatic effect. While a security light aimed downward outside of a back door could be considered a downlight, other downlights stay on as long as you like, adding a little light and beauty to the nighttime landscape. They might be installed on eaves along the side or back of a house near an outdoor entertaining area. For a house with a rather large outdoor living area, downlights installed on the undersides of bench seats or beneath garden wall overhangs add a hint of ambient light that's easy on the eyes.
To give parts of your yard that extra special hint of ambiance, go for the "moonlighting" style of downlights. This type of light resides high up in a tree, pointing downward to illuminate the area in front of that side of the tree. This results in soft shadows from the tree branches and a lighting effect similar to the light of a full moon shining down on your yard. Install these along wooded pathways, behind a pond or pool area or even in a tree or two lining a long driveway in lieu of lampposts to light the drive. Since this involves added wiring and installation high up in trees in most cases, this type of lighting project is best left to a professional.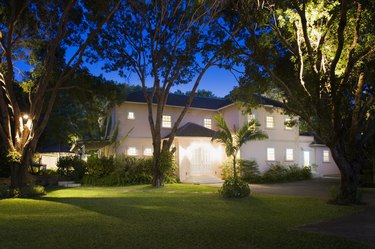 Low-Voltage LED Lighting
LED landscaping bulbs and fixtures are quickly replacing their expensive-to-run halogen or incandescent counterparts. Many of the light sets and kits available in stores are low-voltage LED lights. Many come with a plug-in transformer so the 12-volt lighting system is compatible with your home's wiring. A GFCI outdoor outlet is required for kits with a plug-in transformer. The plug-in type of transformer also eliminates the need to tap into your house's wiring, so no electrician is required as long as your outlet receptacle is protected from the weather and is in good working order.
Up front, LED bulbs cost more than halogen or incandescent lights, but the savings over the years adds up with lower electrical bills compared to similar non-LED lights. The bulbs are also touted to last years longer than incandescents. For common bulbs such as outdoor floodlights used in motion-sensing security lights, you may be able to swap out the old bulb for an LED. Just be sure the new bulb is rated for outdoor use and that it is designed as a replacement for older bulbs compatible with your existing lighting setup.
Before purchasing any low-voltage kit, make sure it's something you can install yourself if you don't plan to hire an electrician. Long runs of lights that require a lot of digging in order to bury the wires or that require hardwiring into your house's electrical system are best left to the pros.
Strands of Light
Landscape lighting doesn't have to be a permanent installation. Rope lighting and string lights add function and a bit of fun to your outdoor spaces and can be taken down or moved whenever you like. Wrap strands of white lights around a tree trunk for an interesting effect that adds a touch of ambient light around the tree.
Strands of fairy lights or party lights hung along a fence or between the house and the garage add a festive touch that's ideal for those evenings outdoors around the fire pit or when you are enjoying a favorite summer beverage. With rope or strand lighting, make sure the lights you choose are rated for outdoor use, as this ensures they can handle changes in the weather and that they won't be an electrical hazard if they get wet.
Strands of light are also easy to modify with different themes by simply swapping out a decorative cover that goes around each bulb. Make floral-themed lights by pushing silk flowers over the bulbs for a spring theme or a backyard wedding. Small plastic tiki mug shapes create a playful theme for a summer cocktail event, while miniature plastic pumpkins or skulls look cute in the weeks leading up to Halloween.
Original post here https://www.hunker.com/13728108/landscape-lighting-ideas/.