Written by Laura Fisher Kaiser and published on https://www.hgtv.com/
Sometimes beginning a landscaping project can seem overwhelming. Often you hear landscape professionals refer to a process termed "Analysis & Inventory." Don't worry, all this boils down to is knowing what you want and what you have to work with. A landscape designer will help you work through these seven landscaping considerations. Take a look at them ahead of time and you'll be well on your way to having the yard you've always wanted.
Landscaping has a huge impact on the overall look and feel of your home (and it can improve the resale value, too). The landscaping style you choose should allow your yard to be a place where you can go to relax and decompress from the rest of the world.
Landscaping: What to Consider
From your home's architecture to zoning laws, keep these basics in mind when planning your project.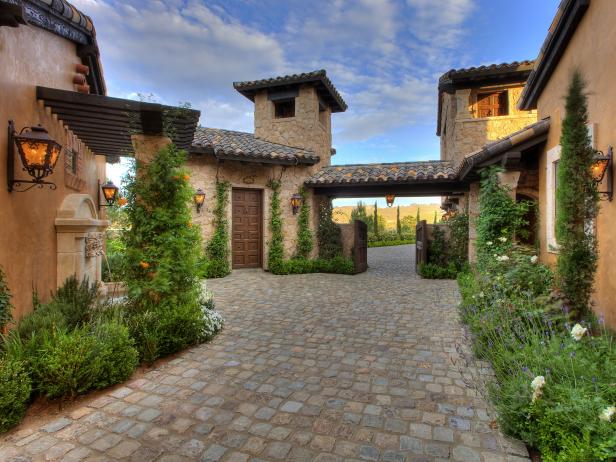 As you narrow down your list of needs and wants, take a reality check to make sure your desires are compatible with the givens of your property's location and attributes, as well as with your lifestyle and budget.
"The main thing is finding out what the homeowner likes in general," says Pete Marsh, a landscape designer with Buck & Sons in Columbus, Ohio. "You may have to take their initial vision and give some advice to make things fit in better with the setting."
Architecture
Your landscape design should complement the architectural style of your home and relate to the house's orientation on the property.
"Sometimes the architecture of the home really calls out for a specific way of designing and other times it's not so obvious," Marsh says. "If a house is very orthogonal, it can make sense to do rectangles, squares and diagonals that play off the angles of the house." On the other hand, you might prefer to soften those angles with serpentine paths and amoeba-shaped beds for a less formal feel or to accommodate topographical challenges.
Landscaping Considerations
Activities
Is your yard big enough to all the things you want to do there? If you set aside a portion for a play structure for young children, what is your plan for that spot when they outgrow it? Can you keep your dog from trampling your flower beds?
How many people do you typically have over at a time? "The size of the family is very important" in determining the size of your patio and proportions," says Joe Densieski, president of NU Green, a landscape design firm in Riverhead, N.Y. "Knowing whether you're cooking for six or 15 is critical so you can decide the size of the barbecue area, the width of the walkways, the patio, the fire pit."
Seasonality
"You'll get clients who have taken a vacation in Florida and want to create that look back home," Marsh says. "They might not understand that you can have thin-set concrete only in places where they don't have severe freeze-thaw patterns or that stuff would be flaking off all over in a year and the place would look worse than before you started."
If you live in a four-season landscape, you can plant for year-round interest, so there's always something blooming or changing color in the garden. Says Massachusetts-based Risa Edelstein, president of the Ecological Landscaping Association: "You can start in February with early bulbs, witch hazel and pussy willows, followed by tons of flowers in spring. You get foliage color in fall, and then seed heads in winter along with red berries for birds. Trees like birch that have interesting bark look interesting even without leaves."
In desert climates, some plants and grasses go dormant in hot weather, so create visual interest by using silhouettes of trees and large plants, colorful pots, dynamic sculptures, and built structures like pergolas.
Timing
The best time to have a professional evaluate your landscape is in the fall, Edelstein says: "That's when everything is mature, the leaves are falling, and you can see how everything's done. Then you can work through the design process over the winter and hit the ground running in the spring."
Maintenance Requirements
How much time do you have to spend on keeping your yard ship shape? If you're like 92 percent of homeowners in a recent survey by the American Society of Landscape Architects, you want a yard that's low-maintenance. That means less lawn to mow, more native plants and perennials and water-efficient irrigation.
Make sure you know how big a plant or tree will be at maturity. "It's easy to get fooled by the pot," says Edelstein. "A plant might be perfect at 2 feet high, but then get to 30 feet high and 5 feet in diameter, and have to come out because it's encroaching on your house."
Also go for low-maintenance hardscapes like brick, stone or composite that don't require painting or sealing.
Zoning and Permits
Before embarking on a project, understand what is allowed under municipal zoning regulations and home association rules. You don't want to be crossing the finish line on a project only to find you've violated [section 8, rule p] of the local code. What might seem arcane to you regarding building limitations, setbacks, lot coverage, fencing, variances and so on might be a very big deal to the powers that be.
"That especially comes into play if you want to add fencing," says Robert Schucker, president of R&S Landscaping in Midland Park, N.J. "Building a fence usually triggers permits, which triggers zoning approval."
Make sure your contractor knows the latest codes and be clear about who is responsible for pulling permits. If a building or fence is in violation, the homeowner is liable for removing or correcting it, which can be costly and heartbreaking.
Original post here https://www.hgtv.com/outdoors/outdoor-remodel/landscaping-what-to-consider/.